Emory to treat patient with suspected Lassa fever | News
ATLANTA-- An American medical worker suspected of contracting a deadly virus in West Africa is headed to Emory's isolation unit for diagnosis and treatment. 
Emory University Hospital is working with the CDC and the Georgia Department of Health to transport the patient, suspected of having Lassa fever.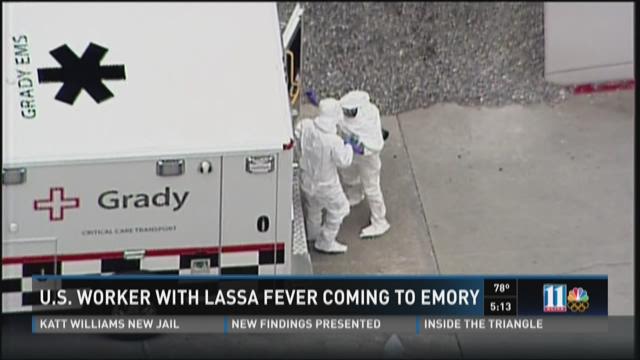 The physician assistant was working in Togo, West Africa with a missionary group and had contact with an infected patient. The medical worker will be transported back to Atlanta by air transport this weekend. 
Emory was asked by the U.S. State Department to accept the patient into the same isolation unit that successfully treated four Ebola patients in 2014.
"Strick adherence to the same infection control procedures that our trained staff used when we cared for patients with ebola will be successful and will help maintain the safety for our health care workers," Emory's Dr. Jay Varkey said. 
Lassa fever has been prevalent in West Africa. Although Lassa and Ebola can have similar symptoms, a spokesperson for Emory University Hospital says Lassa is far less likely to spread from person to person. It's also far less deadly. According to the CDC, only 1 percent of people infected with Lassa virus die. 
"The symptoms early on are common to other viral infections So fever, occasionally a high fever a lot of aches, you can have GI symptoms like nausea or vomiting and then in very rare circumstances among patients who are hospitalized for Lassa fever, a small portion of patients can develop bleeding complications," Dr. Varkey said.